Safety and Total Quality
Energy Drilling Service has a company-wide commitment to safety. Comprehensive safety and training programs are provided for all operational employees. Our program combines on-the-job training, industry courses and scheduled safety and quality meetings involving all company stakeholders. We have developed Standard Operating Procedures for all hazards identified by employees as a risk to their health, equipment or the environment in which we operate. Our employees have dictated that our Safety Program be mandatory and have enthusiastically supported its development. On-going training confirms each individual's professionalism and enhances opportunities for improvement and advancement.
As a company committed to Safety, we believe a drug-free environment is essential. Energy Drilling has incorporated a drug and alcohol testing program which is fully endorsed by our employees.
Employee training and courses: Standard First Aid, CPR, WHMIS/ TDG, H2S Alive, Acetylene Cutting Equipment, Air Brake, Accident/Incident investigation, Due diligence, Risk Management, Oilfield Driver Awareness (ODA), Ground Disturbance, Confined Space, Fall Arrest, PST, Energy Drilling's Standard Operating Procedures and TQS.

Total Quality Service
Energy Drilling operates under a mandate of total quality service. This program is the means by which our Company combines our mission statement, vision and values into daily operations and business. Though TQS meetings, issues faced by stakeholders are addressed and resolutions discussed which often lead to continuous improvement of our business model.
Energy Drilling is proud to announce it has received a Certificate of Recognition – #20181128-4729. Our Alberta WCB Account Number is 8993306, Industry Code 09904.
Energy Drilling is a regular member of the Petroleum Services Association of Canada.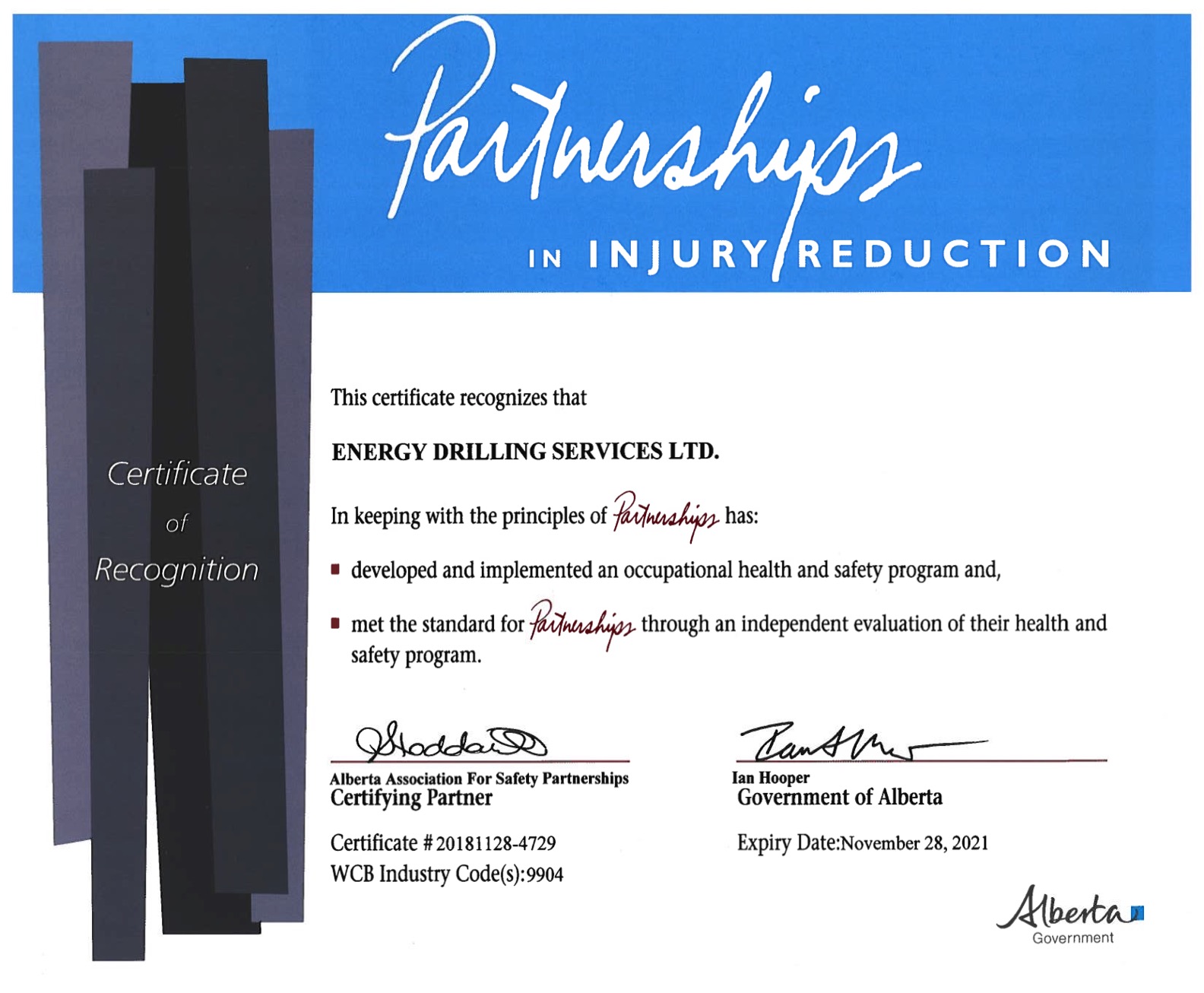 Click here for full size view of Certificate of Recognition